BOOK 1 LOVE IN THE MOUNTAINS NOVELLA SERIES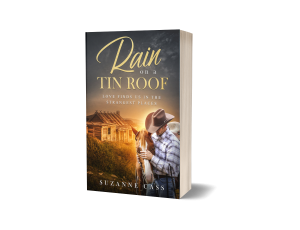 Amazon  Kobo  iBooks Barnes & Noble  Google Play
A city girl lost in the mountains and her reluctant rescuer will have to survive a deadly blizzard if they're to find what they've both been looking for all along.
While out on a short ride city girl, Lana falls from her horse and is knocked unconscious. A large search is organised, but a wild storm is coming and they're no closer to finding her.
The last thing Dusty needs is to help search for a missing woman, he's too busy keeping his struggling farm afloat. Reluctantly, he joins the search and finds Lana dazed and suffering from hypothermia. With the blizzard on the way, he takes her to a tiny hut in the mountains where they can ride out the storm.
What they find out about each other as they spend the night together will shock them both.
Each book in the Love in the Mountains Novella Series can be read as a STANDALONE:
* Rain on a Tin Roof
While the characters overlap, each book tells a different, separate story with a happy ever after ending.